| | |
| --- | --- |
| All-Over Color - Darker | $102+ |
| Retouch - Darker | $72+ |
| Two Color Foil - Highlights & Lowlights | $132 |
| Full Foil Highlights | $117 |
| Partial Foil - Highlights | $103 |
| Balayage | $132+ |
| Color Correction | $203+ |
| Specialty Color | Consult Only |
| Toner | $49 |
| Men's Color (Lighter) | $69 |
| Men's Color (Darker) | $49 |
| Extra Bowl of Color | $15/ bowl |
| Color Consultation | $10 |
| *Any color service going over 5 hrs and 30 min or 15oz of color is subject to changing of price. | |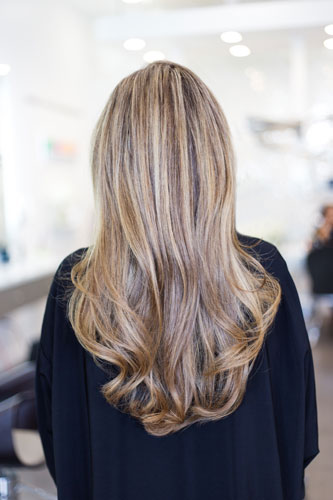 Textures & Treatments

Perm: Must schedule consultation before.
- Long Length
$110+
- Medium Length
$91+
- Short Length
$81+
- Partial/Mens Perm
$58+
- Perm Consult
$10
Brazilian Blowout
$200+
Split End Repair

*

$40+
B3 Deep Condition

*

$50+
Scalp Treatment

*

$30+
Deep Condition

*

$30+
*These services can be combined with other services for a discounted price
If you have any special needs, not only will your personal stylist help you out, but our whole team of hairdressers will work together to ensure your needs are met. All your questions about color and styles will be answered as we work together to help you choose the color and style that is best for your body type, face shape, skin tone, hair type, and even personality.
Our beauty experts will always be able to give you exactly what you are looking for. How? Each stylist receives extra education that goes far beyond what they learned in school. Each stylist is updated on the latest techniques and trends with color and chemical products. They are trained on how to match hair color to the body type, skin tone, face shape, and personality. They know how to treat hair of all lengths, thicknesses, colors, and textures. In our hair salon, we keep 6 color lines on hand and stocked so that we can give our clients exactly what they are looking for the day they come in for their appointment.
For those who are looking for a color change, big or small, our stylists know that to go from dark to blonde will require highlights, color correction, a balayage, or an aumbry. They know that to go from blonde to a dark color will require a two-step color, from grey to dark requires a one-step color and that foils, balayage, or an aumbry are what to use on those who want more than one color in their hair. Our stylists will be able to help you make simple hair coloring changes such as these or any complicated changes that you may desire. We provide you with many options for color and chemical here at Tami's Salon.
In addition to coloring services, we also provide texture and treatment services to our customers. We can do perms for short, medium, or long hair. Perms are great because it gives you perfectly curly hair that is easy to do in the morning and looks great with the application of just a small amount of product. The other texture services available are extensions for lengthening your hair, and a Brazillian blowout for protection from damage, eliminating frizz and making your hair shine. We recommend our Brazillian blowout to clients with frizzy, out of control hair, or extremely damaged and over-processed hair. The types of extensions we offer include tape-in extensions, I-tip extensions, flat-tip extensions, fusion extensions, or crown-halo/clip-in extensions.
Treatment services can be done on their own or added on to another service for a lower price. Those treatment services include a B3 conditioning treatment, split end repair, and scalp treatment. If you are considering getting one of these services done on your hair, call us today at (208) 356-7161 to set up a time for a consultation and appointment. Your personal stylist will help you know what your hair needs and our team of stylists will work together to give you color, style, and treatment that your hair has been longing for.
The price of each of our services is determined by the time, talent, and skills that will be required to create the look you desire. See our services page for more detailed color and chemical pricing.
After we color your hair we will teach you about the products and tools you will need to take care of your hair and avoid damage. A big focus here at Tami's Salon is that we understand your expectations, meet your unique needs, and educate you on how to best take care of your hair. During your beUtofullness consultation, you will receive expert advice on how to help look and feel your very best. We will never oversell you on products. We will only give you advice on products that we truly believe you will benefit from. Tami's Salon is a place where you will always find beauty experts who are mindful of their clients and look out for what is best for them.