Lashes
| | |
| --- | --- |
| Full Set: | $87 |
| 2 Week Fill: | $43* |
| 3 Week Fill: | $62* |
Hybrid Eyelash Extensions:
Hybrid Eyelash Extensions:
- Full Set:
$97
- 2 Week Fill:

*

$48
- 3 Week Fill:

*

$72
Removal:
$20
*Price shown is subject to change depending on the amount of lash extensions left on your eyes when you come in for your appointment.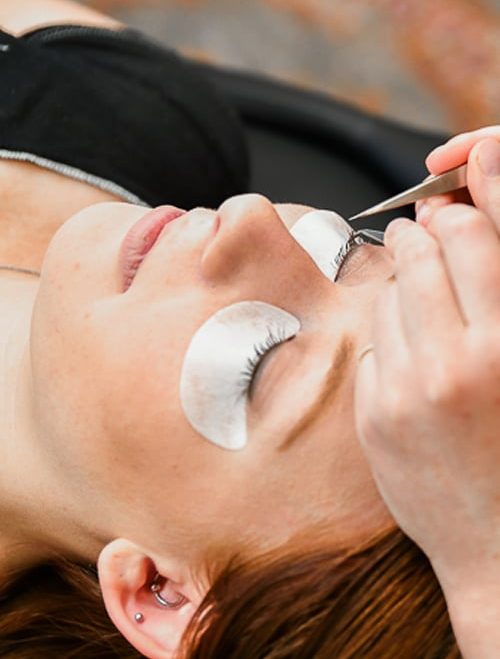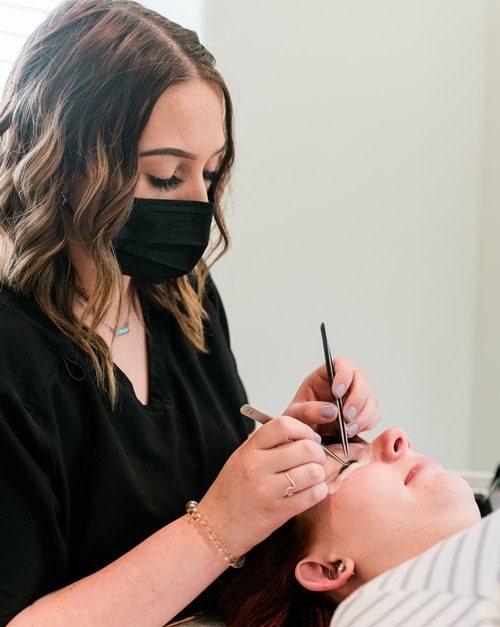 Our eyes are one of our most beautiful and unique features! Accentuating them can definitely help you feel more confident and ready to take on your day! At Tami's Salon, we offer a few different services for eyelashes to help your eyes POP!
If you like the look of falsies but hate the hassle, Eyelash Extensions are a great option! With our Eyelash Extension services, we will apply a full set of fake lashes to your natural ones from corner to corner. After you have your full set, you can choose to come in every 2 weeks or 3 weeks to get a fill! You'll need to come in for fills because eyelashes naturally replace themselves every 4 to 5 months. As your old eyelashes fall out, you'll need to come in so we can keep you looking your best! With each of these services, you can choose between either Classic Eyelash Extensions or Hybrid Eyelash Extensions. If you're wanting a simple, classy look without too much drama, we recommend our Classic Eyelash Extensions! For those who want more of a wispy, dramatic look we have our Hybrid Eyelash Extensions!
There are many advantages to getting Eyelash Extensions. One is that it makes getting ready in the morning much faster. Think about how nice it would be to only have to apply a tiny bit of mascara to your bottom eyelashes and then walk out the door with eyes that pop rather than taking the time to attempt to curl your eyelashes and then extend them using primer and mascara. You will even be able to sleep in a little longer with the extra time you would've used to curl your eyelashes. Not only that, but when you have Eyelash Extensions you will no longer have to go through the annoyance of getting dark circles around your eyes whenever you use mascara and then shower or jump in the pool. What a relief! Getting Eyelash Extensions gives you the long, thick, and full eyelashes that very few people are lucky to be born with. If you haven't already, give them a try!
Sometimes Eyelash Extensions may not be a good fit, and that's okay! We offer Eyelash Extension Removal as well as other "eye-catching" services! If you want to add a little boost to each one of your lashes, then an Eyelash Lift could be a great option for you! When you get an Eyelash Lift, we use a rod that specifically fits your length of natural eyelashes to curl them upward. You may have heard it referred to as "a perm for your eyelashes". Another great advantage is an Eyelash Lift often lasts anywhere from 6 to 8 weeks depending on the person. If you're wanting to darken your natural lashes, an Eyelash Tint is the way to go! During an Eyelash Tint, we dye your eyelashes to give you a darker, more intense coloring, making it look like you have mascara on without all the work! Lasting 3-5 weeks, Eyelash Tints are a great way to enhance your look! Putting these two services together brings the best of both worlds! The curling effect of the Eyelash Lift paired with the intensifying coloring of the Eyelash Tint makes getting ready in the morning a breeze! Call now to learn more about our lash lift and tint services!