| | |
| --- | --- |
| 30-min Chair Massage | $40 |
| 60-min Table Massage | $70 |
| 90-min Table Massage | $105 |
| Structural Muscle Balancing | $70 |
| Muscle Energy Technique | $70 |
| Therapeutic | $95 |
| Thai (on the table) | $70 |
| Face Zone | $70 |
| Foot Zone | $70 |
| *Available Add-ons: Cupping, Gua Sha, Hot Stone, Hydration, Aromatherapy | $5 each |
Need a massage?
There are many benefits that come with getting a massage. Massages can:
Relieve muscle pain, sore muscles, and headaches
Invigorate tired muscles
Alleviate low-back pain
Increase joint flexibility
Calm your nervous system
Release muscle tension
Improve blood circulation
Helps relax and destress
The best thing about getting a massage at The beUtofullness Way by Tami's Salon is that our licensed massage therapists personalize each service to meet your needs. For example, if you come into an appointment with tight shoulders, we have several massage therapy treatment options to release the tension in those muscles. Some of the treatments include structural balancing, hot stones, cupping, or gua sha. Each of these treatments can help release stubborn muscles.
Here at The beUtofullness Way by Tami's Salon, our licensed massage therapists stay updated on massage education by taking classes on the newest techniques for all your massage needs including back massage, shoulder massage, neck massage, foot massage, face massage, and massage for headaches. Using thebeUty Formula from beUtofullness, we understand that each person's body responds in different ways. Our Rexburg massage therapists make adjustments to ensure we treat you in a way that is relaxing, takes care of your needs, and provides the best massage specifically for you.
Massage Therapies
Each of your personalized beUtofullness massage experiences consist of a consultation with our licensed massage therapists followed by your scheduled massage. Hot stones, hydrating, gua sha, and cupping are additional services you can add to your massage for a small cost.
60-Minute Massage
After your consultation with our licensed massage therapist you will receive an amazing whole-body relaxing massage. Some of your massage can be spent on therapeutic massage targeted to address your specific areas of pain. If you need more time to address specific areas of pain, our Therapeutic Massage will be your best choice.
A 60-minute massage appointment somewhere else usually means you'll receive only 50 minutes of massage time. Arriving on time for your beUtofullness Way 60-minute massage means you'll receive a full 60-minutes of massage time! Yay!
Book your 60-minute massage today to rejuvenate your tired and sore muscles.
90-Minute Massage
Need a longer massage? We got you! A 90-minute massage is also personalized as described above.
Therapeutic Massage
When you need a detailed massage customized to focus on your specific area(s) of pain, a 60-minute therapeutic massage from one of our licensed massage therapists is the best massage for you! This massage helps decrease pain and increase mobility for your area of pain.
For example, you might want a massage focused on your head, neck, and back if you are someone who needs:
To relieve tension
Help with TMJ
Relief from frequent headaches
To free their shoulders
To increase mobility in your neck
Or you might want a therapeutic massage targeting your hips, legs, and back if you are a runner, athlete, or on your feet all day to release tension and improve sore and tired muscles. Our massage therapists can help:
Alleviate low-back pain
Release tension in calves, hamstrings, and quads
Decrease pain
Improve mobility
Our clients love how they feel after this massage and we think you will too.
Muscle Energy Technique
Need to stretch? Our Muscle Energy Technique is a massage stretching technique that gives your overall body a great stretch. You will be fully clothed during this massage and will be an active participant in this manual therapy that improves joint function, decreases pain, and lengthens your muscles. It is combined with a regular massage.
Thai On The Table
Need to stretch, but want the massage therapist to do all the work? Our Thai On the Table massage is just for you! Enjoy gentle pressure along your body's energy lines to increase flexibility and relieve tension and pressure in your muscles and joints. This is not original Thai on the floor, but has been modified for a table experience. Think of it as a yoga massage where rather than focusing on having the correct form in a yoga pose, you simply enjoy all the benefits of passive stretching and feeling great!
Structural Muscle Balancing
Moving a bit stiff or not as well as you used to? Schedule a structural muscle balancing when you need to:
Release tension
Improve your range of motion
Improve neuromuscular communication in your body
Rebalance the energy flow in your tissues
This technique is great for any aged client and can be done fully clothed. Our massage therapist will use very gentle movements to move your body away from pain and toward increased comfort to achieve great results!
Pre-Natal
Oh, pregnant moms-to-be, we feel you and we got you! Mom and baby can both relax with this lighter, more nurturing touch from our licensed massage therapist. This massage therapy is done with you lying on your side, with pillows to support your amazing body. Pre-natal massage benefits include;
Stress relief
Hormone regulation
Reduce swelling, edema, and joint pain, edema
Reduce anxiety
Relieve muscle tension and headaches
Improves sleep
Improves circulation and oxygenation of soft tissues and muscles
We'd love to help you during this special time. Please schedule your pre-natal massage today!
Chair Massage
Need a massage, but don't have a lot of time? A chair massage is a great tension reliever for your sore and tired muscles during your lunch break or any time you just need to get out and relax a bit. This massage is done fully clothed and takes 30 minutes.
Come experience how amazing you can feel in such a short period of time without even messing up your hair!
Foot Zone
A foot zone is a powerful, simple, noninvasive foot massage technique that activates the body's natural line of healing by using hundreds of pressure points on the feet. A foot zone:
Relaxes muscles throughout the body when they are too sore to apply direct pressure
Targets all organs and body systems
Can help with plantar fasciitis
Our wonderfully restorative foot zone massage lasts for 1 hour.
Face Zone
A face zone is a relaxing and rejuvenating face massage. It is great for de-stressing and gives you a good feeling of overall well being. A face zone:
Is extremely relaxing
Triggers your parasympathetic nervous system so your body can relax and heal
It's amazing!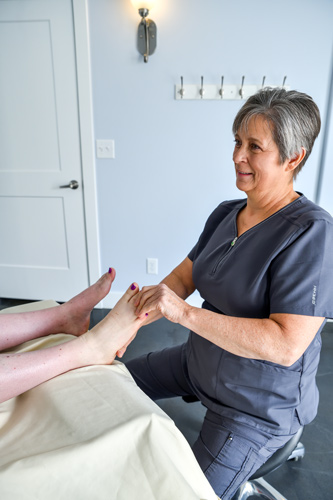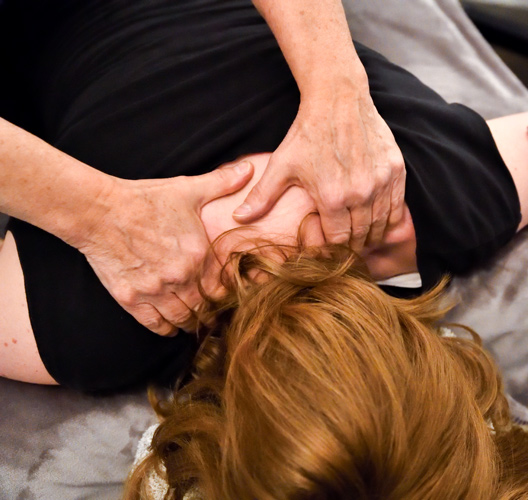 Don't Want to Disrobe?
Maybe you've never had a massage before or aren't comfortable disrobing. No problem! You can still experience tension release and relaxation through a variety of massages that can be done fully clothed. Choose from:
Thai on the table
Structure muscle balancing
Muscle energy technique
Chair massage (done on a massage chair rather than a table)
Come to your appointment wearing exercise clothing such as yoga or compression pants that you can easily move in without exposing too much skin.
Massage Rexburg
The next time you are looking for "massage therapy near me", or "massage Rexburg," schedule your best massage with our talented and licensed massage therapists at The beUtofullness Way by Tami's Salon. Come enjoy your personalized massage to relieve your painful, sore, and tired muscles and feel your stress melt away!