Braids/Artistic Hair/Updo:
$41+
Head of Curls:
$36+
Shampoo & Style:
$25+
Shampoo & Wet Set:
$36+
Shampoo & Detangle:
$43+*
Makeup:


Makeup Application:
$40+
Makeup Application Lesson (Bring your own makeup):
$40+
Airbrush Makeup:
$103+
Prices shown are at starting price. Price may vary depending on stylist, duration and amount of product used during appointment.
*This service starts at $43 for an hour and increases in price depending on how long the service takes. Please call to schedule so we can ensure you'll have enough time for your appointment.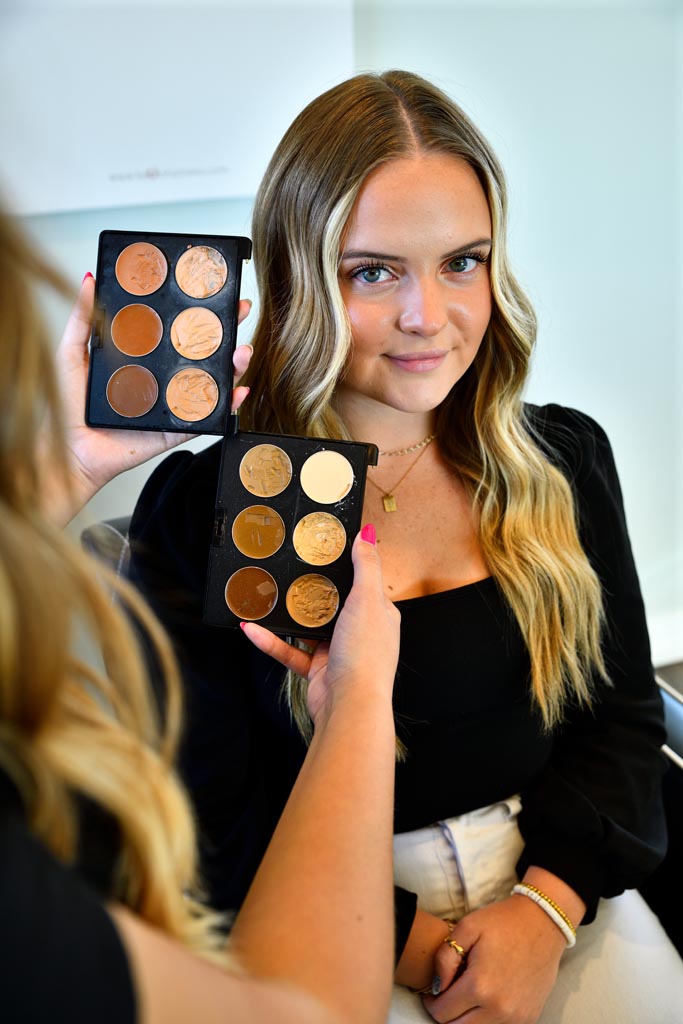 It's nice to freshen up your style every once in a while, even if it's as simple as having someone style your hair and do your makeup for you! By using our beUtofullness formula during our beUtofullness consultation, we can create a style for you that perfectly matches your body form, face shape, skin tone, hair type and personality! Here at Tami's Salon and Spa, you receive a beUtofullness consultation with every appointment!
Whether you're wanting to have your makeup done for a special occasion such as prom, a date, or just wanting to learn how to do your everyday makeup, our Makeup Application service would be a great option for you! Our stylists and makeup artists will work with you and your unique beUtofullness formula to create a look you'll feel confident in! Please remember, if you're coming in for a Makeup Application Lesson, we ask you to bring in your makeup so we can teach you how to apply it! For a flawless finish that lasts all day, Airbrush Makeup could be a great option for you! Airbrush makeup is great for photoshoots or other special occasions!
There are so many reasons to get your hair styled! For special occasions, our Braids/Artistic Hair/Updo service will be perfect for you! Using our beUtofullness formula we will match your outfit, personality, and style! Whether intricate or something more on the simple side, we'll work hard to achieve the look you're wanting! To make sure we create the finished product that you want, we will have you send us or bring in a picture of the hairstyle you have in mind. Keep in mind that this service doesn't include a wash. Our Head of Curls service is perfect for special occasions such as prom, bridesmaids, mother of the bride, etc. When you set up an appointment for this service, the stylist will create curls that work best for YOU based on your beUty formula. This service does not include a shampoo, but is a style service that provides curling your hair all over your head.
Hair-apy is a real thing! Sometimes it feels good to have someone wash our hair and do a simple style! Our Shampoo and Style service would be perfect for just that, as well as if you're wanting your hair to look special for a date! If you're wanting curls without the use of hot tools, we have our Shampoo and Wet Set service! We'll shampoo your hair, put it in curlers, and let you relax under our dryer, and once you're done your stylist will complete your look! For our clients who need their hair washed and detangled, we created a Shampoo and Detangle service. With this service we will wash your hair then get to work at making it more manageable for you! Please keep in mind you may need extra time depending on how long it will take our stylists to detangle, which we do charge extra for. Make sure when you call to schedule this service you talk with our staff about how much time you may need so we can have adequate time to pamper you!