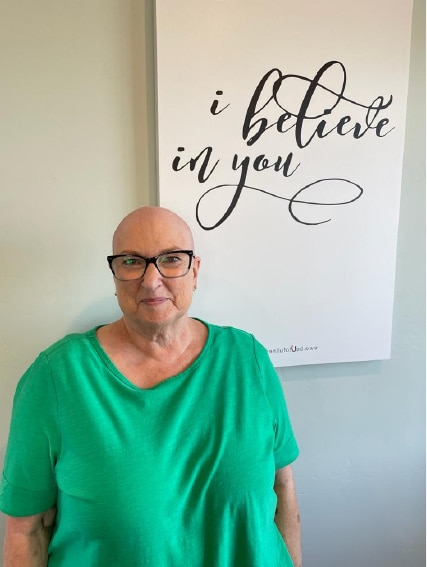 Our

Can

Room
My mom was my first CAN experience. I've been doing CAN services for what feels like forever, and she was my first official client. She started chemo and her hair started falling out in clumps! When it was falling out in clumps, the longer it was, the worse it got.
We matched her original hair and ordered the wig. When the wig arrived, we shaped it to fit her by sizing it and cutting it. We then cut her hair super short so she didn't have the clumping and clogging issues. When she was ready, we shaved her head. Shaving off her hair really made her feel better, and wearing a wig was so nice. People didn't know it was a wig unless she told them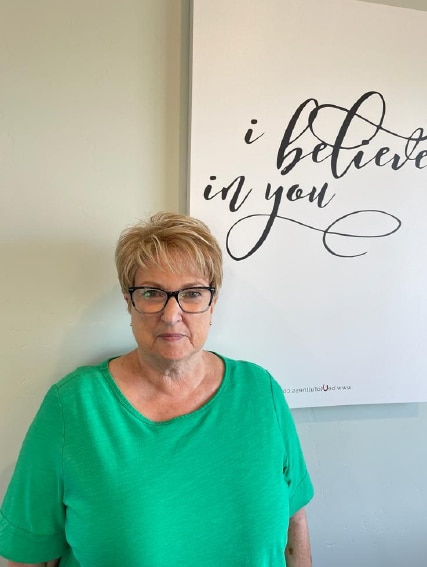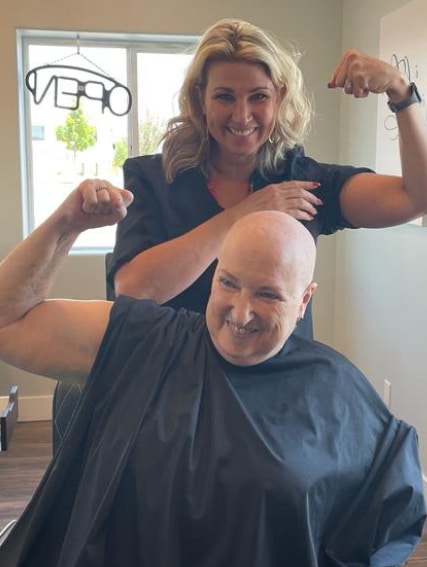 The CAN room is for someone fighting through hair issues, to show them they are strong and capable. The CAN room is the crowning jewel for a safe salon. Our stylists go through classes to healthily speak to people and healthily communicate and gain answers as a group. Now we have a space dedicated for people who are, many times, battling the biggest war of their life to feel loved, supported, believed in and reminded THEY CAN. We are behind them. They can come broken and leave with Hope. We've been donating to cancer for years, wigs for people, services for broken families, makeovers for last wishes, now
we actually have dedicated a room in the salon so my dream can be fulfilled.
She was comfortable because I had her, and she had me. We built off each other's strengths. When I opened my first salon, I talked about a special space for the broken. I have nieces and other family
members that have to deal with beauty issues, and there's just so much insecurity around beauty already. A
shame salon should NEVER exist.
Hair may seem frivolous, and it's important. It's the first thing we notice about someone, the first thing we see in the mirror. We believe hair is dignity, not diva. We have touched so many lives in this room, from brides to wigs to hair donations and everything in between. We hope you can feel our hope and empowerment for you.
In 2007 I was in a hospital bed getting ready for brain surgery. So many patients I came in contact with were scared to go see their hairdresser because of the shame they felt would follow. I decided right then and there I would ALWAYS make it safe, and someday, I would have a room dedicated to it.
YOU CAN survive brain surgery, cancer, anxiety disorders and YOU CAN walk into a salon and feel beautiful and empowered with a capable staff backing you every step of the way. We are trained and ready… Let's CAN together.
-Tami Hymas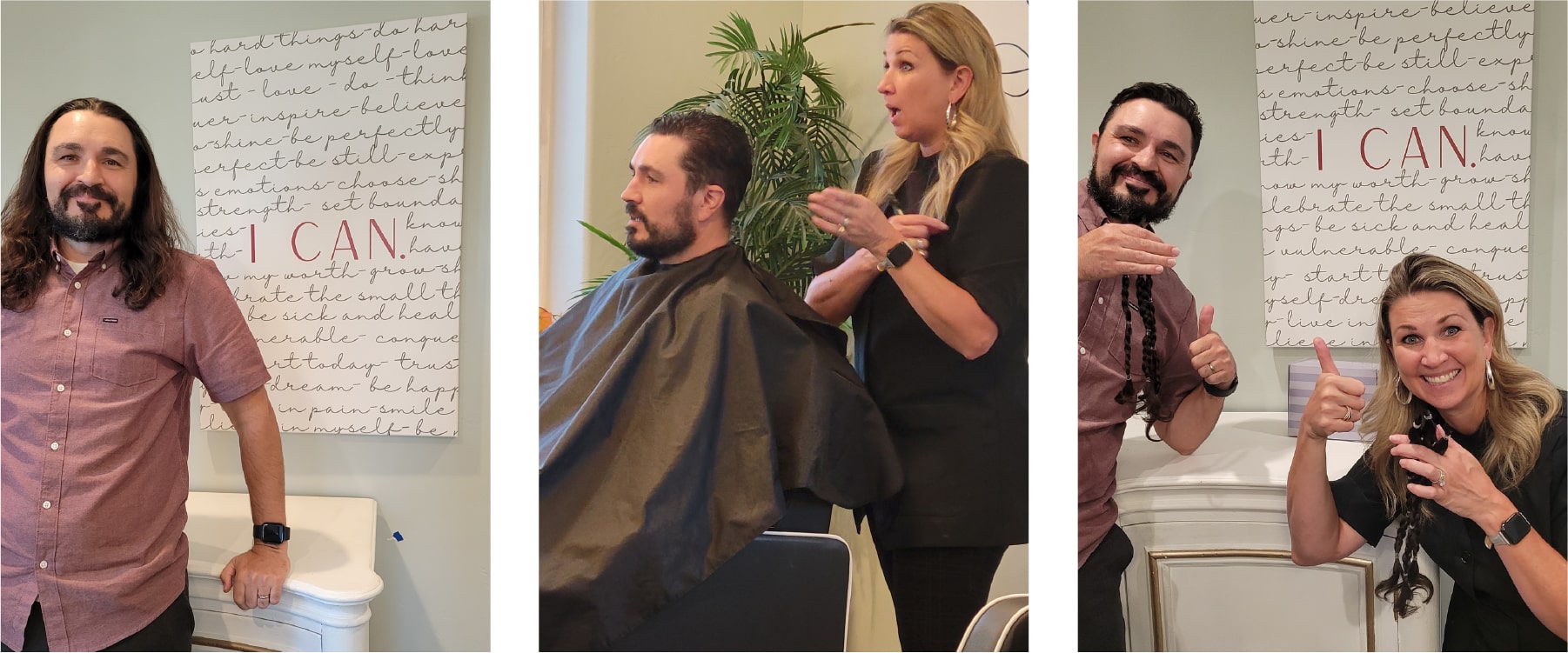 Call us at 208-356-7161
to schedule your appointment in our can room
Human Trafficking Awareness
Human Trafficking involves the use of force, fraud or coercion to obtain some type of labor or commercial sex act. Every year, millions of men, women, and children fall victim to this egregious crime in the United States and World Wide. It happens all over every community, every state, and the victims can be any age, race, gender or nationality.
So, why should salons care about Human Trafficking? Fact is, salons and spas were the number one place for Human Trafficking in 2018. According to Polaris Project, the number of situations in illicit Massage, Health and beauty establishments were recorded in 2020 at 625 and 2021 at 626. They also reported the number of likely situations were around 959 in 2020 and 1055 in 2021. It's also important to note that these are just documented cases, as many are never reported.
Our goal is to do our part to shrink those numbers and to be able to give victims a voice so they can have a better life away from their handlers.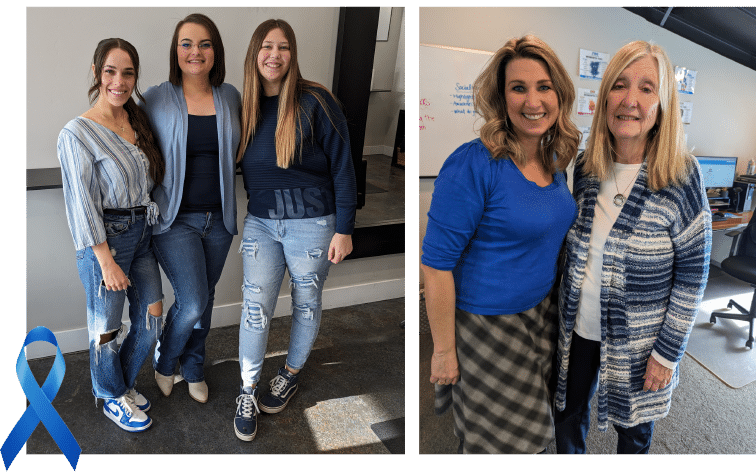 OnWatch Certified
A safe salon is a must, and we strive to ensure that every client that walks through our doors feels safe and cared for. That's why each of our employees are certified OnWatch Advocates so they know the signs of human trafficking and how to help victims.
We also have adopted the Angel Haircut in our salon. If you are in a situation where you are in danger, you can ask for an Angel Cut and we will contact authorities immediately to keep you safe.
Color of Hope Festival
IIn June of 2022 we participated in and sponsored an event in Rexburg, Idaho called the Color of Hope Festival. We teamed up with Dahlia's Hope, a non profit organization who provides aftercare services for survivors of sex trafficking. All of the proceeds went towards helping survivors get the aftercare they need. It was so great to be able to interact with the community, hear people's stories, and share in the hope of a better future for our community. This is one of our most recent community events and we were so grateful to be part of it and part of this amazing community! Together, we can fight human trafficking and abuse in all of its many forms!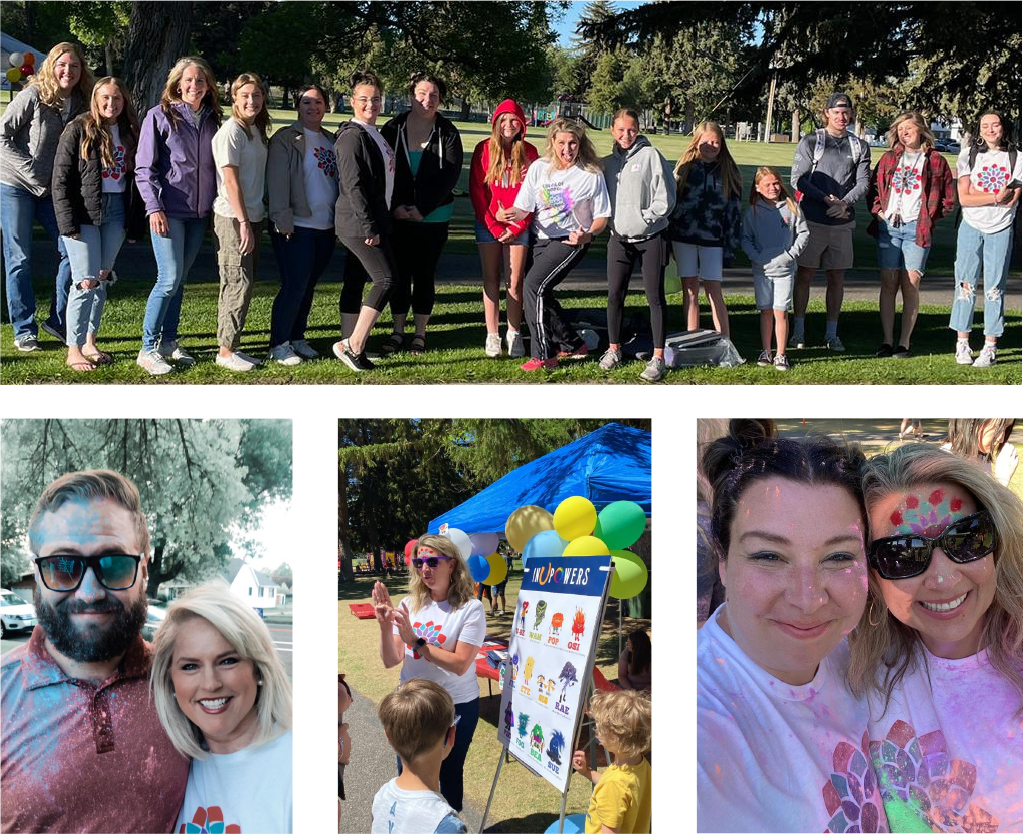 The inUpowers is a training program that helps you learn how to recognize and label your feelings, take mindful moments to process them, and learn how to make healthy choices. Our curriculum was created in an effort to help educators and their students navigate tough emotions. We used teachers, administrators, as well as therapists to help us design our curriculum. We know we can shrink the gap of vulnerability with the inUpowers by teaching healthy communication and safe connections.
Dahlia's Hope provides aftercare for survivors of sex trafficking. Our mission is to provide therapeutic services, medical, education, vocational training, transition into the workplace, and life skills to help these survivors function independently and successfully in society. We provide a multi-tiered approach to reach individuals in varying stages of recovery.

Safe House Project's mission is to increase survivor identification beyond one percent through education, provide emergency services and placement to survivors, and ensure every survivor can access safe housing and holistic care by accelerating safe house capacity and development across America.

Life Spark International is a non-profit organization that brings problem solvers together to create new solutions and systems that support existing non-profits in India and Nepal. Our expeditions are designed to immerse individuals in the local culture and see first-hand the challenges faced by communities and nonprofits. We carefully select and partner with grassroots organizations working to educate communities and prevent human trafficking and domestic violence.