Womens:
$39+
Bang Trim:
$10+
Girl's Haircut (11 & under):
- With Wash:
$23+
- Without Wash:
$18.75+
Boy's Haircut (11 & under):
- With Wash:
$17.50+
- Without Wash
$15.50+
Men's Haircut:
$21+:
Men's Cleanup:
$10+
Beard Trim:
$10+
Extension Consultation:

*

$11+
Tape-in Extensions:

*

$82/hour
Price shown is starting price. Price may vary depending on stylist, duration and the amount of product used during appointment.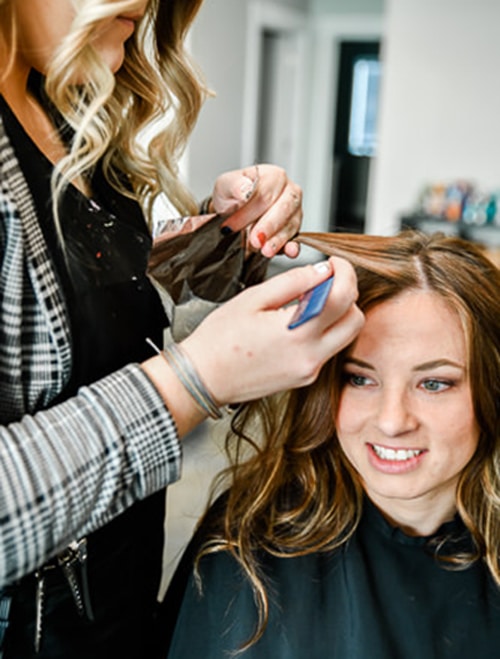 Here at Tami's Salon, we do more than simply cut hair. When you come in for a haircut in Rexburg at our hair salon, you will never want to go back to that $5 barber ever again. What makes a haircut at Tami's Salon so different from any regular salon in Rexburg you may ask? Here at Tami's Salon, each of our stylists receives up-to-date beUtofullness education that gives them the ability to understand what looks best for each client's unique body type, face shape, skin tone, hair type. Our beUtofullness formula is not about us. It was created for YOU! We use this formula in every one of our appointments to help you look your very best. In addition to our beUtofullness education, we bring outside vendors in to further our education and keep each of our stylists up to date on the latest styles, trends, products, and practices in the beauty industry. As you can see, we believe that education is important. Not only do we believe in educating our stylists, but when you come in for a haircut we will give you expert advice that will educate you on how to best take care of your unique hair. We will teach you to understand the products you need and will give you the tools you need to take care of your hair by yourself. Everything that we do here at Tami's Salon is for the benefit of our clients.
The first time you come into our salon for an appointment you will receive a free beUtofullness consultation. When you come in for a beUtofullness consultation, we sit you down and talk with you to help you understand how you are made; meaning your face shape, skin tone, body form, and hair type. Understanding how each of our clients is uniquely made gives us the ability to diagnose what hairstyles and colors will look best on each person individually rather than just going off of a picture. Consultations will only take a few minutes and are an important part of our beUtofullness process that leads to our success in meeting our client's needs. Make sure that when you come in for your next haircut in Rexburg you plan a few extra minutes for this consultation.
Using our beUtofullness formula, we offer women's haircuts, men's haircuts, girl's haircuts, and boy's haircuts (girls and boys haircuts include ages 11 and under). Price may vary depending on many factors including stylist and time used. Arriving on time ensures that each of these haircut appointments comes with a beUtofullness consultation, wash, blowdry, style, and education on how to take care of your hair. Other hair cutting services we offer include men's beard trim, bang trim, and men's clean up which includes grooming of the neck and ears. We also provide excellent wedding hair styling services!
Here at Tami's Salon and Spa, our Rexburg hair salons care about who is in our chair and strive to provide the best possible experience and create a welcoming and safe environment. Come in and see for yourself what makes us different from other hair salons in Rexburg!
Call (208) 356-7161 or schedule an appointment online today to receive the haircut that you have been dreaming of. We look forward to meeting you!