| | |
| --- | --- |
| Classic Lash Extensions: |   |
| Full Set: | $87 |
| 2 Week Fill: | $43+ |
| 3 Week Fill: | $62+ |
Hybrid Eyelash Extensions:
- Full Set:
$97+
- 2 Week Fill:
$48+
- 3 Week Fill:
$72+
Volume Lash Extensions:
- Full Set:
$104+
- 2 Week Fill:
$52+
- 3 Week Fill:
$78+
| | |
| --- | --- |
| Eyelash Extension Removal: | $20+ |
Price shown can vary depending on how many lashes you have at the time of your appointment and how long it takes.
| | |
| --- | --- |
| Eyelash Lift: | $57+ |
| Eyelash Tint: | $26+ |
| Eyelash Lift and Tint: | $77+ |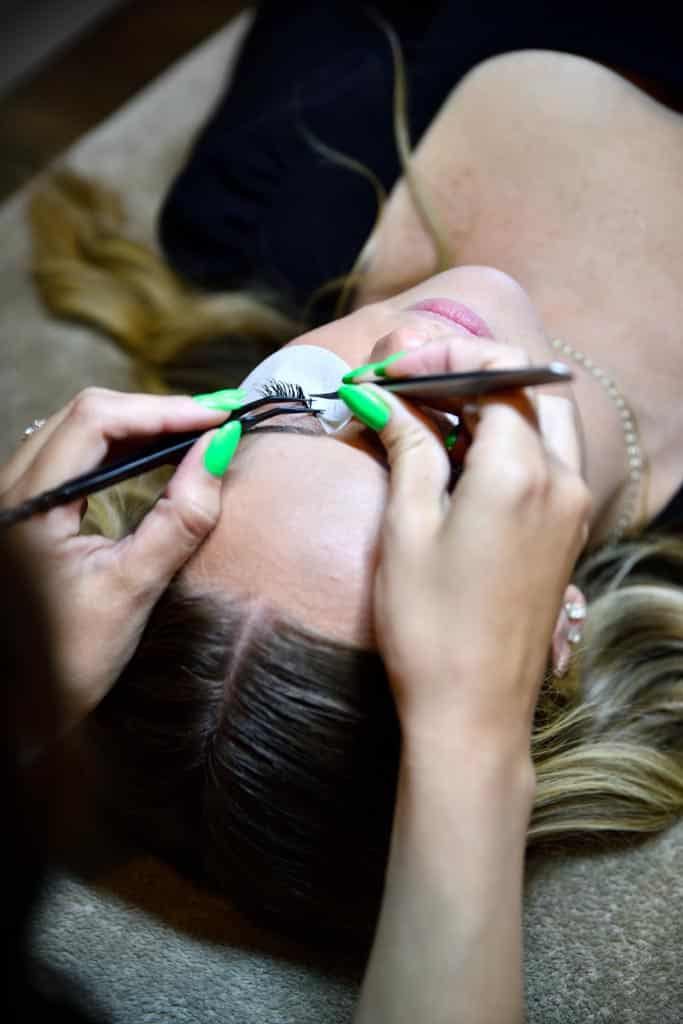 Our eyes are one of our most beautiful and unique features! Accentuating them can definitely help you feel more confident and ready to take on your day! At Tami's Salon and Spa, we offer a few different services for eyelashes to help your eyes POP!
If you like the look of falsies but hate the hassle, Eyelash Extensions are a great option! With our Eyelash Extension services, we apply a full set of fake lashes to your natural ones from corner to corner. After you have your full set, you can choose to come in every 2 weeks or 3 weeks to get a fill! You'll need to come in for lash fills because your natural lashes naturally replace themselves every 4 to 5 months. As your old eyelashes fall out, you'll need to come in so we can keep you looking your best! 
Because everyone likes a little different look with their lash extensions, there are different styles to match your personality and lifestyle! Classic lash extensions are great if you want a simple, classy look without too much drama! Volume lashes are for those who love thick, long and full looking lashes. If you're wanting more of an in-between look, Hybrid Lash Extensions could be a great fit for you! Hybrid Lashes tend to be a bit more wispy with a bit of a dramatic look. If you decide lash extensions aren't a good fit for you, that's okay! We offer Eyelash Extension Removal to help you go back to your natural lashes safely.
There are so many advantages to getting Eyelash Extensions. One is that it makes your morning routine so much easier and quicker! You can ditch the mascara good-bye and walk out the door with eyes that POP instead of taking the time to apply mascara or false lashes. Not only that, you don't have to deal with the dark circles some mascaras can leave under your eyes. Getting Lash Extensions gives you the long, thick and full lashes of your dreams! 
Another great option, especially if you want to enhance your natural lashes, would be an Eyelash Lift or Eyelash Tint! With the Eyelash Lift, we use a little silicone "rod" that helps us curl them up, making them look longer and fuller! This is often referred to as a "perm for your eyelashes". The Eyelash Lift typically lasts anywhere from 6-8 weeks depending on the person. If you're wanting to darken your natural lashes, an Eyelash Tint is the way to go! During an Eyelash Tint, we dye your eyelashes to give you a darker, more intense coloring, making it look like you have mascara on without all the work! Tints typically last about 3-5 weeks. A favorite in our salon is to combine the two services, pairing the curling effect of the Eyelash Lift with the intensifying coloring of the Eyelash Tint to make the perfect look using your natural lashes!