| | |
| --- | --- |
| Airbrush | $103+ |
| Shampoo & Wet Style | $37+ |
| Event Updo | $37+ |
| Makeup Application | $37+ |
| Spray Tanning | $37+ |
| Shampoo & Style | $21+ |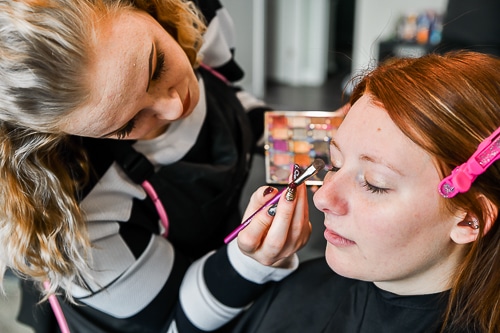 When it comes to style and makeup, we have many services for you to choose from. Each of these services is coupled with a beUtofullness consultation. Through this consultation and by using our beUtofullness formula, we will be able to help create a style for you that perfectly matches your body form, face shape, skin tone, hair type, and personality.
Our Specialty Makeup/Makeup Application service is a great choice for those going to prom, dressing up for Halloween, or other special events. It is also a great service for those who just want to learn how to do their everyday makeup. When you come in for these types of appointments, we ask that you bring your personal makeup and our stylists will teach you how to apply it. A makeup application service is priced at $37+. For those who need their makeup done professionally for a photoshoot, we also have the option of getting your makeup done by airbrush. Benefits of airbrush makeup are that because the makeup is applied through a very fine mist, you get a very smooth and flawless look without the feeling of makeup weighing down on your skin. Airbrush makeup services are priced at $102+.
Need your hair done for a special occasion? Our event updo service will be perfect for you. Using our beUtofullness formula we will match your dress, personality, and style. To make sure we create the finished product that you want, we will have you send us a picture of the hairstyle you have in mind. Our event updo service is priced at $37+.
Just want a wash, dry, and style? We can do that! We first begin with a beUtofullness consultation to determine which shampoo and conditioner will work best with your hair and discuss what kind of style you are looking for. Then we will wash your hair with the shampoo and conditioner you need, blow dry your hair, and style it. While we do the style, we will also educate you by explaining what product we are using and how we are creating the style so that you can try it again on your own. Our shampoo and style service is currently priced at $21+.
Our shampoo and wet style service is where we give your hair a good cleaning using shampoo and conditioner that is best for your hair type, then put your hair in wet set rollers, and dry your hair under a hood dryer. This service is a perfect way to create curls in your hair without using the damaging heat of a curling iron. A shampoo and wet style service is priced at $37+.
Need a tan? Don't want to spend hours in the sun? Spray tanning is the solution for you. Spray tanning will give you a safe and sunless glow. With a spray tan, you won't have to worry about any potential sun damage as you would if you choose to tan in the sun. When you come in for a spray tan at Tami's Salon, we will do a beUtofullness consultation with you to talk through your color choices. Our spray tanning services are priced at $37+.