| | |
| --- | --- |
| Brow Wax | $11 |
| Lip Wax | $11 |
| Chin Wax | $11 |
| Ear Wax | $11 |
| Underarm Wax | $17 |
| Half Arm Wax | $21 |
| Bikini Wax | $32 |
| Full Face Wax | $32 |
| Half Leg Wax | $37 |
| Back Wax | $37 |
| Chest Wax | $37 |
| Full Arm Wax | $42 |
| Full Leg Wax | $54 |
| Brazilian Wax | $54+ |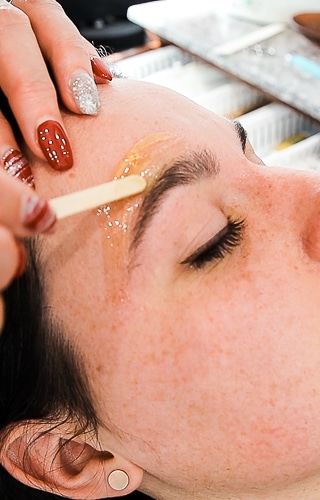 Once you walk into Tami's Salon you will see for yourself that it is a welcoming environment where you can feel comfortable and relax. Our goal is to help you look your best. While helping you look and feel your best, our stylists will also look and act their best. We believe in modest and clean styles. In our salon, we do our best to create an uplifting environment with no extremes, gossip, or vulgar language. We want you to feel comfortable and at home each time that you come in for an appointment. We will be like family happy to greet you and work together to meet your needs.
If you are looking for a safe and reliable way of removing body hair, waxing is a great option. When you wax hair off the body, it is likely to stay away for as long as 6 weeks - a much longer time than if you shave the hair off. After you wax, your skin will glow and feel smooth, fresh, and clean. If it is common for you to get cuts and bumps when you shave, or easily bruise and scar, you may want to consider waxing instead of using a razor. Doing so will leave you with bump-free, cut-free, and stubble-free skin. When you wax, it completely removes unwanted hair from the roots. This means that your hair won't grow back short and stiff like it does when the hair is simply cut off with a razor. Instead, you will be left with that smooth skin you've been longing for.
When you come in for a waxing appointment, you will also receive a free beUtofullness consultation. After we clearly understand your needs and expectations in the consultation, we will take you to a private space that will be reserved for your waxing appointment.
We offer many waxing services at our salon. First is our brow wax. For just $11 we can shape your eyebrows in a way that perfectly fits your body type, face shape, skin tone, hair type, and personality. We can even tint your eyebrows for an extra $13. Next is our arm wax. We have the option of either doing a full arm wax or a half arm wax. If a half arm wax from the elbow down is all you need, we do it for $21. If you prefer waxing your full arms, it's $42 for the full arm wax service. We offer the same options for our leg wax. A half leg wax from the knee down is $37 or you can do a full leg wax for $54. For the face, we offer a full face waxing service for $32, but also give you the option of waxing just the lip, chin, or ears for just $11 each. Other waxing services we offer include an underarm wax for $17, a back wax for $37, a chest wax for $37, a bikini wax for $32, or a Brazilian wax for $54+.
If you have any questions about our waxing services, please feel free to give us a call at (208) 356-7161 to talk to our experts. To schedule your appointment today, click here!